Customer Comments
The following email text is from a customer using the G4TPH Magloop for the new digital modes (which I have no knowledge of).. I thought this might be interesting showing just how well the G4TPH Magloop perform. Please don't email me any questions about these digital receive modes)
I have been using FT8 with the G4TPH loop antenna and am impressed with the performance, have done a few tests with different antennas including my end fed long wire which goes over the top of the house.
The loop is inside the loft space against the rafters and it's very easy to tune and out performs the longwire.
FT8 is a relatively new digital signal and the idea is to connect the transceiver or receiver (yes you can use a receiver with FT8 but as far as i know only upload data if you are licensed - i maybe wrong!)
it's extremely quick and exchanges info with the other station automatically once connected. If receiving only you can see who you are receiving eg: 54 countries in 24hrs for me, yesterday.
I am using several bits of software depending how I'm receiving or if I'm transmitting.
The software I use for both is WXJT-X to decode FT8, in the settings of WSJT-X under the reporting tab there is a box you can tick to upload data to psk reporter
https://www.pskreporter.info/pskmap.html
There are drop down boxes at the top for bands, signals or countries, received by or transmitted by, anyone or callsign/grid square or country of callsign, an empty box where you can input a callsign and over the last 24hrs down to 15 mins.
Also in the settings you can set your transceiver type if you wish to transmit, if you have a transceiver such as the FT991A then the software will control the frequency on your transceiver too and acts as a stand-alone piece of software.
If you are monitoring only then you need to set the rig to none.
The other software I have is SDRuno as I also have an SDRplay and run that on FT8.
I am a real convert to loops now but the G4TPH loop is the only transmitting loop i have, I do have receive only loops, home built and commercial but for the price the G4TPH loop is exceptional.
If anyone wants to try WXJT-X take a look on YouTube I'm sure you'll be impressed at the number of people raving about it.
At 67 years old myself, who says you can't teach an old dog new tricks.
Thanks again Tom for the loop keep up the good work.
Les (G4JNW)
Starting to run receive tests on my antenna's and the G4TPH loop is in the loft and thought you might like to look at the first 24hr run on FT8.
Can't complain about this!
Thanks
Les
G4JNW
Some comments from my many satisfied customers around the world

Hi,
Been a while.
So your antenna has been on my balcony this long.
I used it once on 20 meters with a local station, so I'd say that wouldn't count.
Yesterday I decided to get into digital modes, JT65 in particular using less than 40W.
For my surprise I got calls from California, South Brazil and Asia.
So, it's more than fair to say that your antenna works like a charm!
Now it got me thinking I should get a FT-817 and get into QRP on top of a mountain.
73 Pedro CU2ZG
Hi Tom just a note to say I love my mag loop I received it in 2days and built it
straight away.
Thank you for pointing out I would be better with 2 x FL-6
fly leads as I was using a elecraft kx3 which ment I would not need an adapter
I tested it down at the beach the other day with my limited 10 watts when the
sun was out and was getting into Spain and the Balearics islands 1to 2 points
up on my 10 mtr fishing pole vertical with 10 radials , and for the first
time I have used it at home in the attic and can hear the signal better it
has cut the noise floor from 9 to 7 or better depending on the band when my
windom antenna has a constant floor of 9 in inverted v formation with apex at
10mtrs I found the tunning switch worked excellent and got used to tunning it
after a few minutes of use and your adapter I purchased for the controller does
a great job .
I have found a new drive in using my radio at home again due
to the lesser noise level and how even if its a Gale wind outside I can lower my
antenna and use the loop which is safe in the attic thanks Lawrence.
Tom
All I can say is WOW !! I was pleasantly surprised at how in depth you researched and answered my question. Your willingness to answer my questions and the detail of your answers far exceeds anything I have ever experienced from anyone I have ever purchased a product.......
........The antenna performs much better than I had hoped and the SWR is incredibly low across the band once I get the capacitance adjusted. You really have a "winning design" here.

Thanks again for a great antenna
Jim ... Missouri
Hi Tom,
here is your antenna on hilltop near Lario lake.
it's a shame that propagation was very, very negative!

73's Ersilio IZ2QYF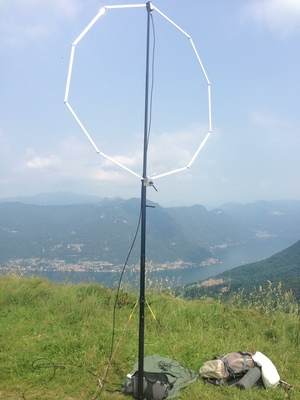 G4TPH HAS A GREAT PRODUCT !!!!! I had used loop antennas before without much success. I sold my other commercial unit for another purchase. When investigating another one I chose the G4TPH for cost as much as anyting else.I ordered the antenna over the intenet.When I got the confirmation found I had ordered the wrong unit. Tom gladly changed the order and sent me the other unit. I had paid via Pay Pal as a guest. He sent the upgrade at no charge.It arrived in 7 days from order and was packed nicely.It was quickly assembled and was suspended from a light fixture in the "shack". You HAVE TO GET IT ON THE AIR ! One contact to W.Va. and not much luck the first day or the second.AND THEN !!!! I heard SM5CAK finishing a QSO on 15 meters CW.HE CAME BACK FIRST CALL. We had a nice chat and he sent me a 559...AMAZING.....4600 miles on 30 WATTS from INSIDE THE SHACK!!!I will do another report when camping season comes around but my first impressions are FINE BUSINESS TOM.Given how this antenna works as it does from inside the house ...I can only imagine how well it will work in the great outdoors!
Thanks very much Tom for your product.
Pictures from WD0BC,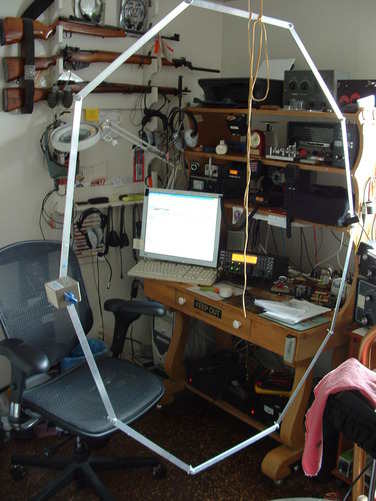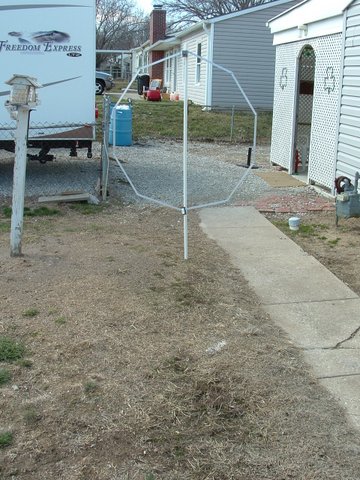 o download a copy of the Remote tune Magloop instructions click here